Track License Applications and Renewals
Keeping track of all of a company's licenses and permits is tough. Sites often have 5 or more permits and licenses that need to be renewed and even more that do not require renewal. Copliancy makes keeping up with renewals simple with notifications and an easy-to-use interface with allows users to follow the necessary steps to renew a license. Users can also easily upload documents, track payments, and keep notes on license renewals so everything they need is right at their fingertips.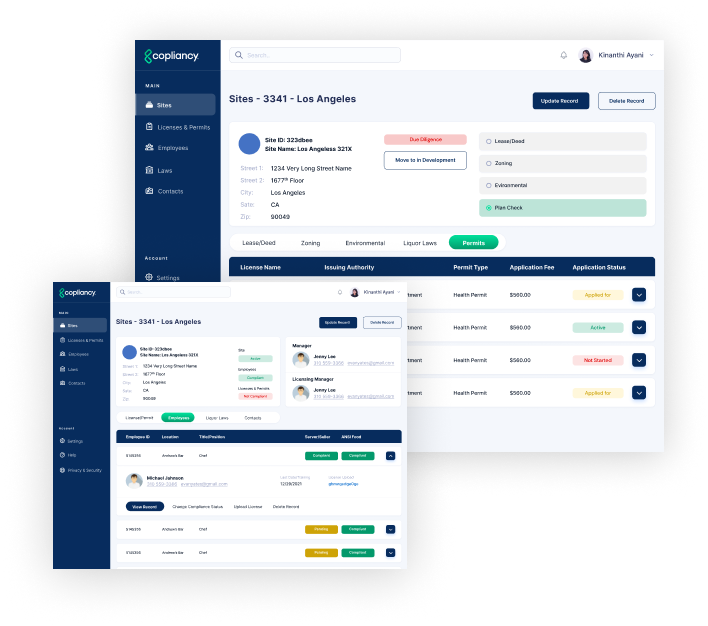 Manage New License Applications
For growing businesses it is important to not only track your licenses that are active, but also those that are in application. Copliancy separates out the licenses that are in application from those that are active so they can easily be tracked. Upon the approval of a license application Copliancy automatically adds that license into the list of active licenses so users are not required to manually input duplicative information.
Contacts, Documents and Notes
Businesses with unique job titling conventions can customize Copliancy so the platform matches their existing naming conventions.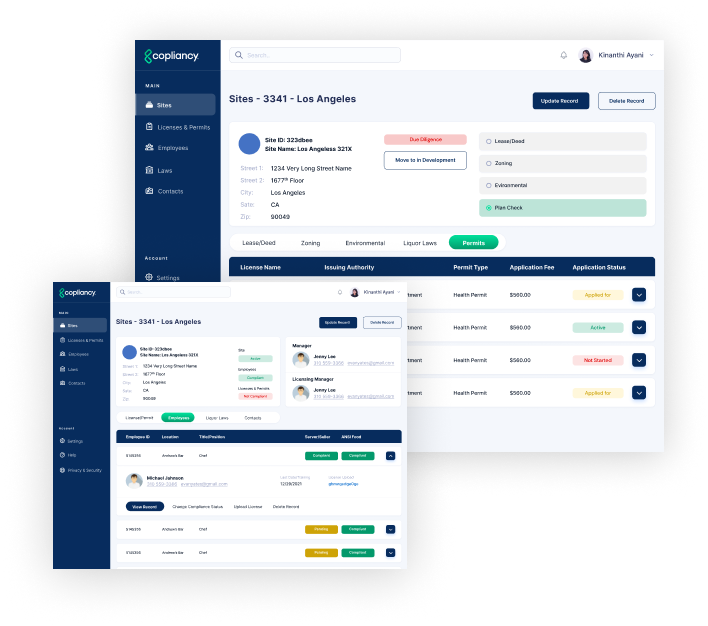 Many times when a site goes inactive one or more of the licenses associated to that site may have value. Copliancy lets users know which licenses and permits may have resale value. Users can then click to receive information and a quote on the value of the license from our partner
LiquorLicense.com
Every time a license is renewed in Copliancy our system asks users to log the payment of that renewal.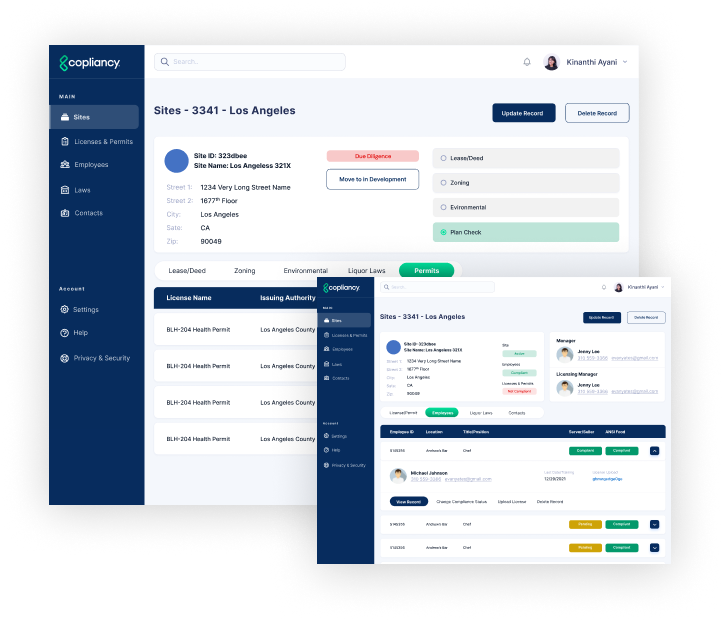 Downloadable Licenses for Site Managers
Copliancy encourages employees across the entire company to benefit from the information it holds. Unfortunately, site managers often misplace their licenses and permits and bog down corporate staff with requests for copies.
Start using Copliancy quickly and easily with either managed or self-service plans. Click below to start automating your compliance.

Renewals made easy
Copliancy is the most intuitive license renewal platform available with automations that make your job simple.


Keep your company compliant
Copliancy is built to keep your entire compliant whether that's maintaining your licenses or your employees' training.